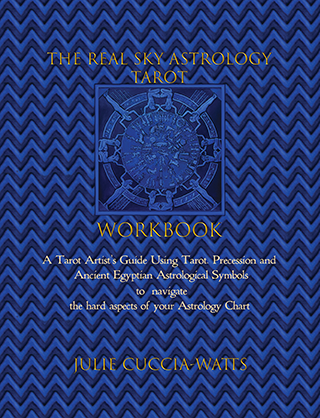 For those of you who love magical tools my friend Robin Freeman has designed this board to use with her Real Sky Astrology deck. Check this out!
"My Real Sky Astrology Deck inspired me to design a workable 3 tiered customizable Astrology board to work with my deck. Boris Rock Stancic helped me bring it to life by creating it! I love it! It's amazing! Thank you Boris! Thank you Julie Cuccia-Watts for being the wonderful Creatrix of such brilliant, beautiful and powerful decks! Your creation of Real Sky Astrology inspired me! I'll be using it along with both Journey Into Egypt Decks, and of course the Ancestral Path!
"~Robin Freeman
The remastered MAAT Tarot guide book in paperback and hardcover with the newest MAAT Tarot images in

c

o

l

o

r

printed on demand at Lulu. Available
now.
Blue Moon Tarot is a newly remastered vintage majors only tarot deck based on the 13 full moons and 8 cross-quarter days.
The deck has the original text from 1998 with updated color images available
Julie's newest deck is The Real Sky Astrology available now.
!!! USPS international and domestic Priority mail is included in your price please use the dropdown menu for your location!!!
---
2019 will marked the third printing of
Ancestral Path Tarot
AND...
There is now a larger sized affordable MAAT Tarot available!
The Journey into Egypt Tarot and MAAT Tarot app
Available for iPhone, iPad and Android!
The Journey into Egypt Tarot App is available at
Fool's Dog.com
The MAAT Tarot App is available at