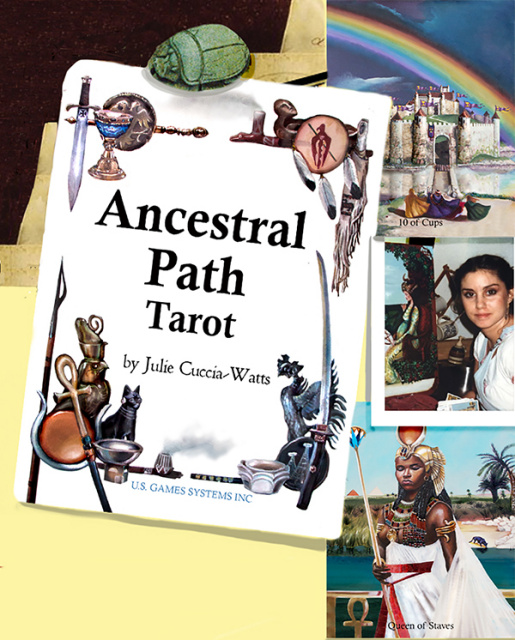 TBA the third printing of
Ancestral Path Tarot
The Journey into Egypt Tarot and MAAT Tarot app
Available for iPhone, iPad and Android!
The Journey into Egypt Tarot App is available at
Fool's Dog.com
The MAAT Tarot App is available at
Fool's Dog.com
The MAAT Tarot small pack is back.
*The MAAT Tarot is now in the public domain and a copyright free deck that can be used for free on your website or on your products. Spread the love of tarot to the world.*
This popular DYI book has all 78 MAAT Tarot cards (with back designs) in an easy to shuffle small 3.18" x 4" size, perfect for the purse or backpack. All you have to do is cut them out and laminate them. Full color front and back.
---
Two Tarot Coloring Books for Adults
Journey into Egypt Tarot
ADULT COLORING BOOK-This book is a delightful collection of colorless line drawn illustrations for you to color. The images are black and white line drawings of Julie Cuccia-Watts' new tarot deck the Journey into Egypt Tarot. The new Journey into Egypt Tarot takes a look at "real sky" astrology juxtaposed with the ancient Egyptian three-season calendar against a backdrop of foreign historical cultures ancient Egypt influenced. The Journey into Egypt Tarot is a unique tarot deck based on the ancient calendar systems of ancient Egypt and Real Sky Lunar astrology. The Journey into Egypt Tarot Coloring Book gives everyone a chance to reconnect with his or her inner child while learning about this wonderful new deck system. So grab your favorite crayons, colored pencils or pens and let's have a journey into ancient Egypt with Julie's Journey into Egypt Tarot.
MAAT Tarot Coloring Book

Print: $20.50
The MAAT Tarot Coloring book by Julie Cuccia-Watts is the perfect way to learn the MAAT Tarot. 78 images to color based on the popular MAAT Tarot use the original deck colors or choose your own.
---
---
Journey into Egypt is 2 years old this month! Happy 2nd birthday!