Get a Free Reading with The Journey into Egypt Tarot
Get a FREE reading with MAAT Tarot
Welcome to my official website!
The New Journey into Egypt Tarot and Guide book!
Available for immediate delivery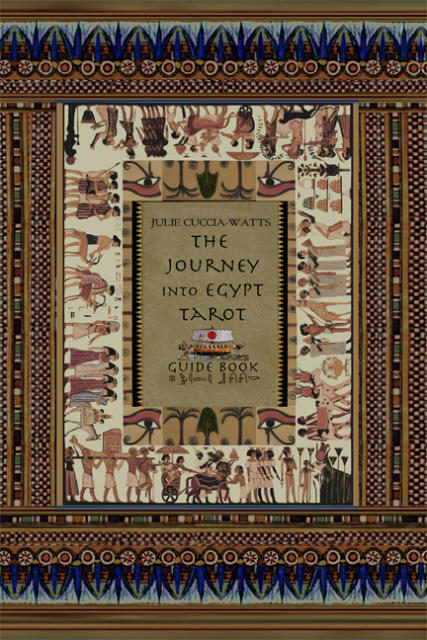 Journey into Egypt hardcover Guidebook
Journey into Egypt Guidebook paperback
View all The Journey into Egypt Tarot cards here
The Journey into Egypt Tarot Workbook
---
Two Tarot Coloring Books for Adults
Journey into Egypt Tarot
ADULT COLORING BOOK-This book is a delightful collection of colorless line drawn illustrations for you to color. The images are black and white line drawings of Julie Cuccia-Watts' new tarot deck the Journey into Egypt Tarot. The new Journey into Egypt Tarot takes a look at "real sky" astrology juxtaposed with the ancient Egyptian three-season calendar against a backdrop of foreign historical cultures ancient Egypt influenced. The Journey into Egypt Tarot is a unique tarot deck based on the ancient calendar systems of ancient Egypt and Real Sky Lunar astrology. The Journey into Egypt Tarot Coloring Book gives everyone a chance to reconnect with his or her inner child while learning about this wonderful new deck system. So grab your favorite crayons, colored pencils or pens and let's have a journey into ancient Egypt with Julie's Journey into Egypt Tarot.
MAAT Tarot Coloring Book

Print: $20.50
The MAAT Tarot Coloring book by Julie Cuccia-Watts is the perfect way to learn the MAAT Tarot. 78 images to color based on the popular MAAT Tarot use the original deck colors or choose your own.
---
The MAAT Tarot app is available at the iTunes store!
For iPhone and iPad!
The Journey into Egypt Tarot App coming soon
from Tarot Media Company
---
ZAZZLE
---
CONTACT Julie
or
P.O. Box 555
Watertown, Wisconsin 53094-0555
Picture Credits

Photograph By Rana George all rights reserved ©2014
Black and White Photograph By Mary Greer all rights reserved ©2007
©Julie Cuccia-Watts 2015