Julie's latest tarot deck based on real sky astrology and the MAAT Tarot Wheel of the Year

is completed...
NEW! If You liked tracking this Journal during the creation of Journey into Egypt Tarot You can get your Full Color Collector's Edition today.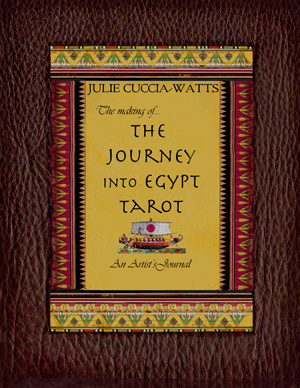 The Making of... Journey into Egypt Tarot An Artist's Journal takes you through the process of the daily acts, the revisions, the envisioning and the slow and profound work of one woman's experience creating a tarot deck. Join tarot artist Julie Cuccia-Watts in her 4th multicultural tarot experiment melding tarot, the ancient Egyptian calendar and Real Sky Astrology. Julie condenses three years of work into 194 colorful pages and gives you a sneak peek inside her newest creation The Journey into Egypt Tarot.
©2013 Julie Cuccia-Watts